Butternut Squash with Cilantro Garlic Sauce and Sriracha Crema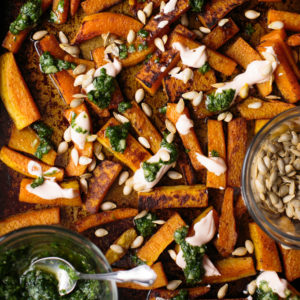 1 large butternut squash (about 3 lb)
1½ tsp ground cumin
¼ tsp chile powder
¼ tsp cinnamon
Dash of paprika
6 Tbs olive oil
1 bunch of cilantro leaves
1 clove of garlic, minced
½ c plain Greek yogurt
1 tsp Sriracha
Salt and pepper
Preheat your oven to 425 F.
Prepare your butternut squash. To more easily peel your butternut squash, use a fork to poke holes all over. Heat for 1-2 minutes in the microwave. Let cool, cut each end off with a knife, then use a vegetable peeler to remove the skin. Cut your butternut squash in half, separating the taller skinny half from the wide fat end. Place each half of the squash on your cutting board, cut side down, and cut each one in half. Scoop the seeds out and set them aside to use later. Continue cutting the squash till you have small wedge or fry shapes.
Place squash in a large bowl with 2 Tbs of the olive oil, toss well to coat, and add cumin, chile powder, cinnamon, paprika, ¾ tsp salt, and a dash of pepper. Toss well.
Place the squash on two large baking sheets, roast for 15 minutes, remove from the oven and flip the squash with a spatula. Return your pans to the oven (switching which shelf you had them on) and roast for 15 more minutes, or until squash is tender and starting to color on top. Remove from oven and set aside.
While the squash is roasting, make the cilantro sauce. Place cilantro, garlic, 4 Tbs olive oil, and a generous pinch of salt into a small food processor and blend until well combined. Add more cilantro or olive oil as necessary.
When the squash is finished roasting, lower the oven temperature to 350 F. Clean the saved seeds from the squash, separating them from the orange pulp and rinsing in a sieve if you wish. Pat seeds dry with a paper towel, place on a baking sheet, and sprinkle lightly with salt (I like using popcorn salt for this. It's such a fine salt that it sticks better.) Roast seeds for 6-8 minutes, checking on them and shaking the pan often to make sure they don't burn. Remove from oven when they start to brown. Let cool.
Stir the yogurt and Sriracha together and set aside.
Serve butternut squash drizzled with cilantro sauce, Sriracha crema, and sprinkled with roasted squash seeds.
Recipe by
This Wild Season
at http://www.thiswildseason.com/butternut-squash-with-cilantro-garlic-sauce-and-sriracha-crema/